The local real estate market set new home price records in many parts of the region in February. Prices here have grown faster than anywhere else in the country for the last 16 months in a row. Demand remains high and inventory very low. Brokers are hoping the normal seasonal increase in listings this spring will help give buyers some relief.
Eastside
With home prices soaring on the Eastside, it's not a matter of whether the median price will exceed a million dollar, but when. February brought the market very close to that milestone. The median price of a single-family home increased 14 percent to a record $950,000 on the Eastside, surpassing the previous peak recorded in December.
King County
The red-hot job market in King County continues to outpace nearly every area in the nation. Well-paid workers looking to buy close to city centers have fueled a growing competition for a shrinking number of homes. That demand boosted the median price of a single-family home up 16 percent over a year ago to $649,950.
Seattle
The median price of a single-family home in Seattle hit a new high of $777,000 in February, $20,000 more than the previous record set in January and up 14 percent from the same time last year. Despite the sharp increase in prices, multiple offers have become the norm for most properties. It remains to be seen if recent interest rate hikes will have a moderating effect on home values.
Snohomish County
After several months of moderating growth, Snohomish County set a new record for home prices in February. The median price of a single-family homes jumped 18 percent to an all-time high of $485,000. Inventory is down from a year ago, with less than a month's supply of homes available for sale.
If you are considering buying a home in today's market, here are three things to consider:
Make sure you can afford the payments.
Choose a location that will appeal to you long-term.
Be committed to living there for a minimum of five to seven years.
This post originally appeared on the WindermereEastside.com blog.
Every year, Windermere offices throughout the Western U.S. host events to help make the holidays a little brighter for our neighbors in need. From food drives to fundraisers, here are just a few examples of how our offices are giving back this holiday season.
Redmond, WA
Our office at Windermere Redmond participated in the Friends of Youth Giving Tree by setting up a tree in their office with gift tags for youth aged 16 to 25 that are either homeless or transitioning into a home for the first time. Brokers then selected gift tags and purchased the gifts to be delivered to Friends of Youth. Friends of Youth provides services to at-risk youth and homeless young people at 25 sites in 18 cities. In 2016, they helped over 6,500 youth and their families in crisis.
Seattle, WA
The Windermere Seattle-Ballard office has been busy hosting events to raise money for the Windermere Foundation. The first was a Sip & Swap event where they hosted a holiday dresses/clothing swap and asked for donations for each item. Proceeds benefitted the Ballard Senior Center and a total of $651 was raised. They also hosted a Monday Night Football event at Lagunitas Brewery where beer proceeds from that night, totaling $827, were donated to the Ballard Food Bank. In December, they held a Windermere Boutique Day, where 13 local craft vendors came to sell their goods. A portion of all sales were donated to the Windermere Foundation.
The Windermere Ballard office also hosted their 13th annual Santa Photos event for the community. Over 100 people/families visited the office that day, with a suggested donation of $10 for each Santa photo taken. Around $1,000 was raised from the photos, along with an additional $316 in cash and checks.
Oak Harbor, WA
Agents with the Windermere Whidbey Island – Oak Harbor office are supporting Whidbey's Hope For Christmas, an annual gift program made up of community volunteers providing special Christmas memories for all eligible children on Whidbey Island, through DSHS in Oak Harbor. The office is sponsoring several children by purchasing and donating $2,000 worth of gifts.
Windermere Real Estate & the Redmond Team would like to thank our offices and everyone that supports the Windermere Foundation. Through these events, as well as a variety of other fundraisers like the ones described above, the Windermere Foundation is able to support non-profit organizations that provide services to low-income and homeless families throughout the Western U.S.
If you'd like to help, please consider donating to the Windermere Foundation. To learn more about the Windermere Foundation, visit http://www.windermere.com/foundation.
This blog post originally appeared on the Windermere Blog.
As part of Windermere's #tacklehomelessness campaign with the Seattle Seahawks, 37 Windermere offices* in King and Snohomish Counties collected new hats, scarves, gloves/mittens, and warm socks for Windermere's "We've Got You Covered" winter drive. The recipient of these donations was YouthCare, a Seattle-based non-profit that provides critical services and support to homeless youth throughout the Puget Sound area.
Over 3,000 items were collected during the four-week drive, which included some 737 pairs of socks, 391 hats, 467 pairs of gloves/mittens, 111 scarves, and an assortment of other accessories and cash donations. Two agents out of the Mill Creek, WA office even made 32 scarves by hand for the Winter Drive. We are thankful for these generous donations which will go a long way towards helping keep homeless youth warmer this winter season.
The folks at YouthCare were all very thankful to receive the delivery of eight bins full of donated items. And to make the day even more exciting, Blitz, the Seahawks mascot, was on site to oversee the delivery of the items to YouthCare!
Brittny Nielsen, Communications and New Media Specialist said, "We were thrilled to see our friends from Windermere and Gentle Giant dropping off a semi-truck full of donations for homeless youth this season. Having Blitz from the Seahawks show up to help us celebrate was icing on the cake! This crucial donation from Windermere brightens the holidays for youth in need. We're so grateful!"
All of us at Windermere are very grateful to Gentle Giant Moving Company, who partnered with us on this drive, and generously donated their time and trucks to pick up all of the donated items from our offices and deliver them to YouthCare.
Thank you to our participating offices, the Seahawks, and all those who donated, for making Windermere's Winter Drive a success!
*Participating Windermere offices
Bellevue, Bellevue Commons, Bellevue South, Bellevue West, Burien, Chelan, Issaquah, Kirkland Central, Kirkland Yarrow Bay, Lynnwood, Maple Valley, Mercer Island, Mill Creek, Monroe, Property Management – Bellevue, Property Management – Edmonds, Property Management – South, Redmond, Seattle-Ballard, Seattle-Capitol Hill, Seattle-Eastlake, Seattle-Green Lake, Seattle-Greenwood, Seattle-Lakeview, Seattle-Madison Park, Seattle-Magnolia, Seattle-Mount Baker, Seattle-Northgate, Seattle-Northwest, Seattle-Queen Anne, Seattle-Sand Point, Seattle-Wall Street, Seattle-Wedgwood, Seattle-West Seattle, Services-Marketing, Snohomish, Woodinville
This article originally appeared on the Windermere.com blog.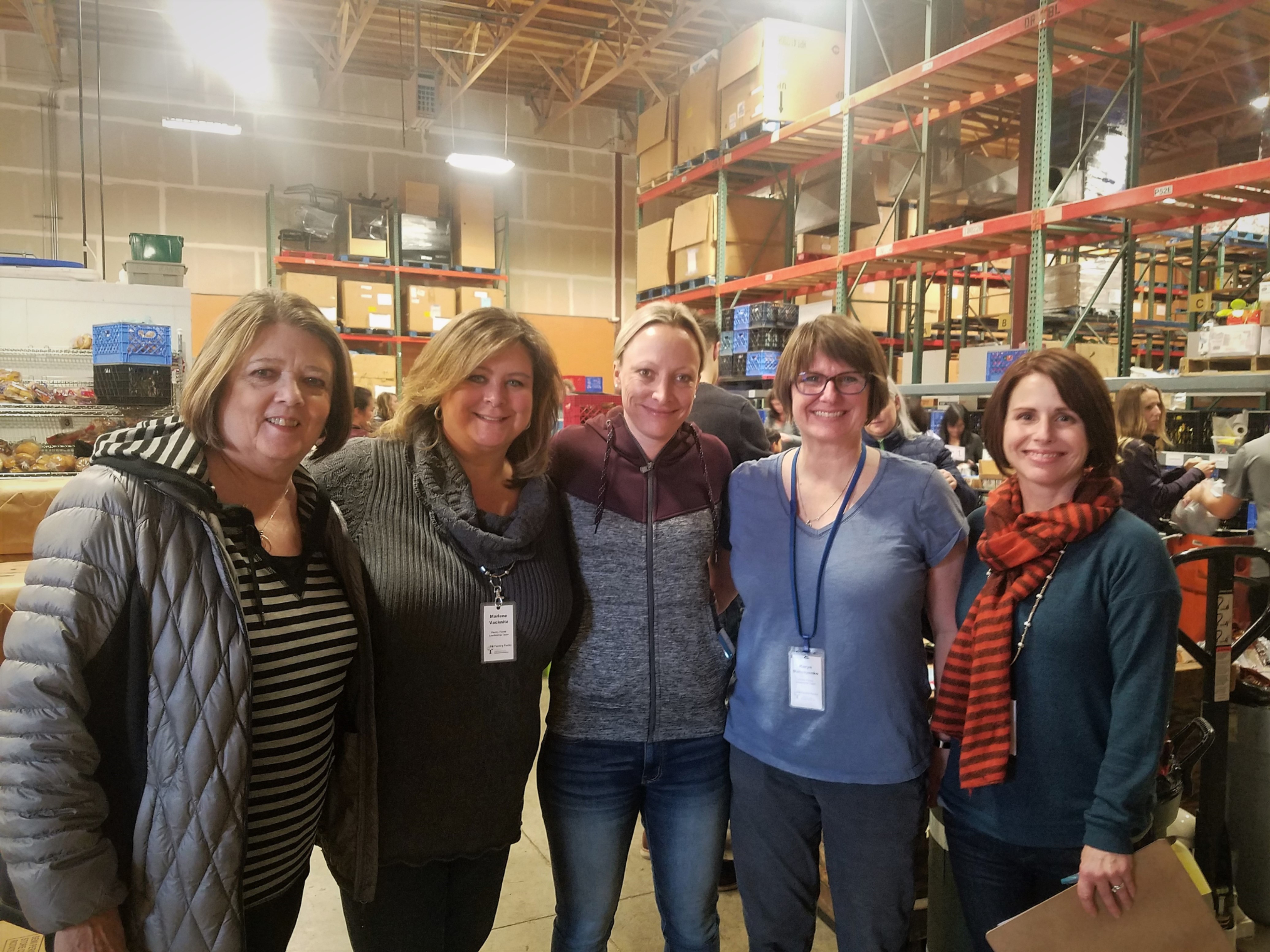 | | |
| --- | --- |
| Windermere Redmond brokers Tricia Ebert & Lara Brown had the pleasure of volunteering their time last week with Pantry Packs, a community driven program that provides healthy food for hungry kids to take home over the weekend and school breaks. Through charitable donations and volunteer support, Pantry Packs is able to feed more than 800 Lake Washington School District children who are identified by counselors as being "food insecure" and often come to school hungry on Mondays. Each month 40-50 volunteers come together to "pack the packs" then volunteer drivers deliver the packs to more than 40 participating schools. Each week school coordinators are able then to distribute the packs to hungry children in grades preschool all the way through high school. In addition to packing the packs, Tricia and Lara were honored to grant an additional $3,700 to the Pantry Packs cause on behalf of the Windermere Foundation. | |
| | Our Redmond brokers would like to thank their clients for enabling the Foundation to grant funds to local non-profits throughout the Eastside and beyond. For the past 28 years, the Windermere Foundation has donated a portion of the proceeds from every home  purchased or sold towards supporting low-income and homeless families in our communities. Together, we can create opportunities for a brighter future for low-income children and families in our neighborhoods. Your support really does make a difference! We sincerely appreciate your business and are grateful to be a part of the Redmond community. |
For more information on Pantry Packs and how you can get involved, please visit:
http://www.lwsf.org/pantrypacks.html
All of us at Windermere are very excited to be in the midst of the second season of our partnership with the Seattle Seahawks, and continuing our campaign to help #tacklehomelessness. For every home game tackle made by the Seahawks, the Windermere Foundation is donating $100 to YouthCare, a non-profit that provides critical services to homeless youth throughout the Puget Sound area.
As proud as we are of our #tacklehomelessness campaign and the money we're raising, we know we can do more. That's why we're hosting another Windermere "We've Got You Covered" winter drive to benefit YouthCare. Each night in the greater Seattle area, nearly 1,000 young people are homeless. And with the winter months quickly approaching, YouthCare is in dire need of survival supplies to keep homeless youth warm and dry during the long, wet winter.
Here's what we are collecting:
Warm socks
Hats
Scarves
Gloves/mittens
*New items only please
From October 16 through November 10, you can drop off donations at the Windermere Redmond office at Redmond Town Center or one of the other participating Windermere offices listed below. Our friends at Gentle Giant Moving Company are generously donating their time and trucks to pick up all of the donations from our offices. Donations can also be dropped off directly to YouthCare, Monday through Friday from 9am-5pm, at 2500 NE 54th St, Seattle, WA 98105.
We hope you will consider making a donation to our "We've Got You Covered" winter drive. Feel free to contact your Windermere agent or local office for more information, or email justask@windermere.com.
**Windermere Winter Drive Drop-Off Locations
Property Management – Bellevue
This blog post originally appeared on the Windermere.com blog.
All of us at Windermere are very excited to kick off our second season as the Official Real Estate Company of the Seattle Seahawks!
Once again, our #tacklehomelessness campaign is front-and-center, with the Windermere Foundation donating $100 for every Seahawks home-game tackle during the 2017 season to YouthCare, a Seattle-based non-profit organization that has been providing services and support to homeless youth for more than 40 years. Last year, the Seahawks helped us raise $35,000 through our #tacklehomelessness campaign, and this year we are looking forward to raising even more money – and awareness – for this important cause.
Our partnership with the Seahawks and YouthCare fits perfectly with the mission of the Windermere Foundation which is to support low-income and homeless families in the communities where we have offices. Through the #tacklehomelessness campaign, we hope to be able to do even more.
A "score card" will be posted after each home game that shows how much was raised during that game. You can follow our progress throughout the Seahawks season on our Facebook page at Facebook.com/WindermereRealEstate
This post was originally published on the Windermere Eastside Blog.
As home prices in King County have reached record highs, some people are wondering whether we are approaching another housing bubble.
While it's true that home prices here have surpassed the last peak hit during the housing bubble, that doesn't mean we are in bubble territory today. The last bubble was fueled by faulty mortgage practices. Today, loans are granted on much more sound principles.
More importantly, the local economy is flourishing. Seattle has the fastest growing population of any major city in the country. The demand for homes, and historically low inventory, have been the catalyst for rising home prices here.
Still not convinced that there is no bubble? Let's take a look at the statistics.
King County Median Sales Price
According to data from the Northwest Multiple Listing Service, the median home price in King County rose steadily since 1993 (the first year the NWMLS reported median home figures), fell during the crash, and has risen since 2012.
Now, let's assume there was no housing bubble and crash in the mid-2000s and that home prices appreciated at normal historic levels for King County, which has been an average annual rate of 6 percent for many decades. This graph compares actual home prices (blue bars) with what prices would have been with normal appreciation (orange bars) over the same period.
King County Median Sales Price
Bottom Line: Had there not been a boom and bust, based on historic appreciation rates home values would be close to where they are right now. However, there is no doubt that home prices have risen rapidly the past few years, and that rate of appreciation can't be sustained over the long term. If you are considering buying a home today, make sure you can afford the payments, and choose a location that will appeal to you for years to come.